MPG Keynote Speaker Jon Cooper
Hire NHL Coach Appearances:
Top Sports Motivational Speakers
Learn how to get out of your comfort zone, build a team and become more resilient by hiring our NHL Coach Appearances.
Top-Notch Professional NHL Coach Appearances for Your Event
Sports are one of the best sources for inspiration, leadership and resiliency. NHL Hockey is one of the best examples of this and it comes from the top: Coaching. Each NHL season comes with inspiring moments that display the incredible perseverance and hurdles that teams have to go through.
Each year, NHL hockey coaches will motivate and lead their teams to top performance at the most crucial times. How do they accomplish this? Just hire one of our NHL coach keynote speakers to learn how they build a team, inspire a team and create a winning team.
At The Mollie Plotkin Group, our NHL coach appearances can help boost your brand through motivational meetings, virtual or live events, autograph signing, and more. From unbearable hardships that turned into success to heartwarming stories, our NHL coach keynote speakers are sure to connect with your team, staff, students, or more.
Top NHL Coaches at The Mollie Plotkin Group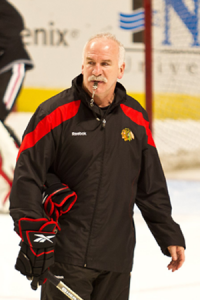 Three-time Stanley Cup winner and Jack Adams award winner Joel Quenneville is regarded as one of the best hockey coaches in the world with expertise in the areas of motivation and team development. He is also the current coach to the National Hockey League's Florida Panthers and offers a kind of experience that is invaluable to any organization seeking to instill the winning culture in its employees.
With six playoff appearances, four conference finals, two Stanley Cup Finals, and a Stanley Cup win, Jon Cooper is undoubtedly one of the best NHL coaches in history. He started as a public defender before starting his professional coaching career. Over the years, he has coached various teams such as the Metro Jets, St. Louis Bandits, Green Bay Gamblers, Norfolk Admirals, Team North America, and Canada's Men's National Ice Hockey Team. As a value-added speaker, Cooper ties his personal stories and profound success to his audience to produce exemplified motivational speeches.
Barry Trotz's NHL coach career shaped him to become an expert in matters concerning team development and motivation. He led the Washington Capitals franchise to win their first-ever Stanley Cup in 2018 and holds the record for longest unbroken coaching stretch in league history. Trotz's experience and charismatic charm allow him to help organizations build and maintain a cohesive unit.
Why Hire an NHL Coach Appearance for Your Event?
Sharing experiences is one of the major factors that can unite a team. Our NHL keynote speakers are greatly skilled at drawing large groups together and making them agree on a common goal or vision. Whether you have inter-department conflicts or a simple lack of team energy, hiring our sports motivational speakers can help solve such issues. They can help encourage team-building activities, sharing of ideas, and more.
Our NHL coach speakers are experts at effective communication. Whether you desire to strengthen existing values or state a fresh direction for your team, our NHL coach appearances are capable of delivering your desired message or vision to your audience in the most effective way achievable. You now have the opportunity to learn how some of the great NHL coaches such as Ken Hitchcock, Jon Cooper, Mike Babcock and more have built and inspired their winning teams.
Our NHL keynote speakers hail from different backgrounds and have encountered varied experiences. Hiring them to tell their stories can help your team gain new perspectives that might increase your staff's creativity and productivity.
All our NHL coach appearances strive to inspire audiences to take action. Regardless of the goal, our NHL keynote speakers help inspire your employees with the needed motivation to get the work done.
When the same person voices the same message repeatedly, it can lose its impact on the targeted audience. Since our NHL keynote speakers are a fresh injection to your organization, they can add a unique perspective and knowledge that your team can utilize.
It's difficult for people to stay motivated when they lose focus on the goal. This is normal for many organizations in and out of the work environment. To avoid this, our NHL keynote speakers will provide your team with that extra enthusiasm needed to get re-involved with your company's success.
How Much Do NHL Coach Appearances Cost?
An NHL Coach keynote speaker can determine how successful and memorable your event is. The quality of talks they deliver will shape your audience's mindset and leave a lasting impression. This is your opportunity to learn from an NHL Coach what strategies they use to build their winning teams.
When hiring an NHL Coach keynote speaker, you are making an investment in your team. Call The Mollie Plotkin Group at 215-510-6607 to learn more about scheduling, cost and availability.
Trusted Source for NHL Keynote Speakers
We know that finding an NHL keynote speaker bureau is no easy task. However, you will realize that your hunt for a NHL coach keynote speaker bureau is over the moment you reach us.
Find the best NHL keynote speakers within your budget range and enjoy our streamlined booking process. Our speaker booking agency has years of experience, booking numerous keynote speakers for hundreds of satisfied clients. We have established strong professional connections with our NHL Coaches and proudly bring them to audience all over the country.
Book a Seasoned NHL Coach Speaker Today
At The Mollie Plotkin Group, our expert team has delivered sports motivational speakers to summits, conferences, and various other events throughout the world. Having worked with both small and large organizations, we are confident that we can get the perfect motivational speakers for your event.
Feel free to contact us Info@MolliePlotkinGroup.com if you have any questions and specific speaker needs.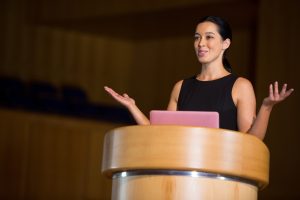 A memorable event is more than a good return on your investment of time and money. How? By bringing attendees back again for more. The
Read More »