MPG Keynote Speaker Robert Paylor
Hire Disability Keynote Speakers:
Booking Top Motivational Speakers
Become inspired from stories of our world-renowned disability keynote speakers.
Get Motivated by Keynote Disability Speakers
Studies show that about 15% of the world's population suffers from a disability— physical, intellectual, or cognitive. Many of these people living with disabilities have been able to beat the odds of limitations, showing that disability is not an inability. If you want to understand the life of a person with a disability, and become inspired and motivated, hiring our disability speakers to share their stories of overcoming adversity will do just that.
Our top disability speakers, Robert Paylor and Kevin Reilly, provide hands-on advice on how to live and deal with a disability. They harness the power to adjust perspective and lift audiences up, going beyond motivation to address topics such as overcoming adversity, tenacity, focus, leadership, and more.
Whether it's being able to compete in the Paralympics or battle cancer, our disability motivational speaker will inspire your audience by bringing insights into the struggles that they have overcome. From college rugby athletes to Paralympians to professional athletes, our qualified disability speakers have faced some of the most unimaginable obstacles and thrived.
Who Are Our Disability Motivational Speakers?
Robert Paylor is a keynote disability speaker whose incredible journey can best be described with the slogan he uses most "Paralyzed to Powerful." During the Collegiate Rugby National Championship in 2017, Robert's neck was broken. His life changed in an instant. He was told that he would never move his hands or walk again. Robert didn't accept this reality, so he put in the work, day in and day out, and was able to move again.
His impactful, memorable, and moving keynote will show you that overcoming adversity is universal and possible. He'll inspire you to recognize the gifts and power you have, so you can conquer your own obstacles. His story, from paralyzed to performance, can inspire your audience to access their full potential and triumph over any challenges. Robert Paylor's TikTok campaign, with 33K followers and millions of video views, is proof of how far is motivational reach is. 
"Every morning that we wake up with our independence is a gift – a
precious gift that millions of people in our world would give anything to
have. We need to treat the ability to rise in the morning just like that, a
gift. When the temptation hits to mute our alarm and groan, we need to
appreciate and utilize the ability we have to put our feet on the ground
and make the most of each moment." – Robert Paylor

Kevin Reilly is an inspirational speaker, author, and former NFL linebacker with the Philadelphia Eagles. Just three years into his NFL career, he was diagnosed with a rare form of cancer— a Desmoid Tumor. This diagnosis eventually led to the amputation of his left arm, left shoulder and top four left ribs. Although the cancer diagnosis ended his NFL career, it did not kill his spirit.
His cancer survival and amputation has become one of his greatest blessings in disguise. His amputation and Desmoid Tumor survival has given him the opportunity to spread awareness and be part of the fundraising involved to conduct research into this very rare disease. During the three decades after his diagnosis, Kevin has made speeches at Fortune 100 companies, colleges, universities, and organizations around the country to spread his positive attitude and mindset. Tenacity, focus, resilience and finding strength in the darkest of moments are just a few of the themes which resonate throughout Kevin Reilly's keynote speech.
By becoming a keynote professional speaker, Kevin Reilly motivates people to overcome any hurdle that blocks their path to success. He'll help your audience build resiliency and create a new road map to overcome adversity.
Why You Should Hire One of Our Disability Speakers
Motivation is an important part of your life. When you're motivated, you know you can achieve more and find the energy to do so. If you feel stagnancy in your personal or professional life, or within your organization, hiring our inspiring motivational speakers will revive, educate and inspire you.
Through their life-changing stories, they can help your employees recognize their power and feel motivated, increasing their productivity, happiness and work-life balance.
Disability speakers help your audience look at the big picture of their own lives, encouraging them to become the best version of themselves. Through tales of how their disability has not stopped them from living their fullest life, they can inspire your audience to overcome personal and organizational roadblocks.
Improves Leadership Skills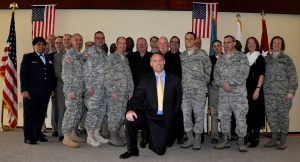 Our actions, results, and impact on others determine great leadership. How you deal with challenges in your workplace and daily life will define your leadership legacy.
Our disability leaders have learned their leadership skills from their participation, hard work and exposure to great leaders on their team. They will also help you think strategically and adapt when faced with conflict.
Adversity is part of life, and overcoming adversity can be challenging. Our disability speakers can help you turn obstacles into opportunities. Since they have been able to overcome challenges, they can share their stories that can serve to strengthen your will and confidence. They can help you bounce back from adversity and establish your growth mindset.
Improves Change Management
Organizations that lead, grow and manage must accept and embrace modern technologies, systems, and structures. This is why you need change management. Our top motivational speakers are masters at change management from the life-changing experience they have faced.
Adept with content such as overcoming challenges, dealing with uncertainty, fear, risk, and beating the odds, they will help you handle and implement change.
Encourages Diversity and Inclusion
In today's age, businesses understand that diversity, equality, and inclusion improves their social and economic value. Organizations that do not value diversity and inclusion may suppress growth opportunities.
Disability speakers are great to help you navigate diversity and inclusion in your organization. They'll help you understand implicit biases and empowering your employees to be their most authentic selves.  Everyone has a disability but, it's not always visible from the outside.
We're more than a speakers' bureau, we're your connection to hiring sought after keynote speakers, storytellers and thought leaders. Our world-renowned disability leaders deliver incredible speeches to build a positive mindset and motivate your audience.
We're committed to providing you with quality and custom speaker experiences. Our team at The Mollie Plotkin Group is lucky enough to listen to our speaker's stories and become inspired everyday. We know our speakers so that we can connect you with the best keynote speaker for your event.
As a reputable speaker's bureau, we'll provide the ideal keynote disability speakers to address your company's needs. Our virtual programming, webinars, and online events allow us to connect you with engaging and informative speeches anywhere, anytime.
Stay Connected with Top-Rated Disability Speakers
Looking for qualified disability speakers?
Look no further than The Mollie Plotkin Group. Our disability speakers have the power to reframe and adjust perspective to lift your audience, inspiring them to build a growth mindset