MPG Keynote Speaker Jon Dorenbos
Hire Motivational Speakers to Speak at Your Events
Find top keynote motivational speakers who deliver influential talks that motivate your audience in an effective way.
Bold and Skilled Motivational Speakers for Your Event
For years, our team has paired thousands of virtual, live, and hybrid events across the world with top keynote speakers. Thanks to our extensive network, we have expert speakers for all types of motivational talks including: resilience, work-life balance, entrepreneurship, corporate culture, crisis management, workplace safety, decision making, negotiations, health and wellness, disability, and more.
Motivational Speakers for Hire: Energize Your Event
Hiring motivational speakers for your event comes with a lot of benefits for your team, business, and organization.
Whether you are chasing new objectives or driving change, a great motivational speaker can infuse your audience with an extra spark to re-engage in their work for improved productivity.
Motivational speakers will instill fresh concepts and approaches in the minds of your audience. Our inspiring talks will help your team experience bursts of creativity and innovation. Turn your perceived obstacles into opportunities by hiring our keynote speakers.
A message can lose its impact if it always comes from the same people. Since motivational speakers are not part of your organization, they can inject unique perspectives and information that your team hasn't heard before. This is a refreshed way to get your vision across.
Boost Energy and Inspiration
Sometimes increased benefits and a great salary aren't always enough to restore mental vitality. And this is where a great motivational speaker comes in. They will re-energize your event and inspire the audience with their compelling stories and experiences.
Worried about the turnout of your next event? Hiring a top motivational speaker might be the best solution. Simply choose a trendy topic in your industry, and browse our keynote speakers to find one who your audience will recognize. By adding that speaker to your agenda, your event attendance is likely to improve drastically.
One thing that all top motivational speakers have in common is the ability to inspire their listeners to take action. No matter what you want to achieve with your event, a motivational speaker will give your audience the extra push they need to get the job done.
Hire Motivational Speakers at The Mollie Plotkin Group
Professional Athlete Speakers
Hiring our skilled athlete and coach speakers for your event will provide a rich ground for your audience to hear unique perspectives. This will help them overcome personal obstacles and rise to challenges.
Some of our professional sports speakers include:
Johnny Quinn
Quinn is an Olympian athlete and professional speaker who gives talks about motivation, teamwork, and inspiration. All these are concepts Quinn has learned during his time as a professional Olympian and football player. His wide range of abilities will enable him to provide custom-tailored presentations to your audience and his ideas work well in a range of contexts and topics.
Margaret Hoelzer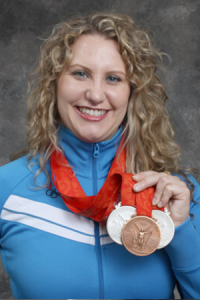 Apart from winning numerous achievements as an athlete, Margaret has also devoted her time to do advocacy work. This includes sharing her experiences as an athlete with local communities, youth swim clinics, teams, and organizations. Thanks to collaborations with many organizations, her advocacy has had a significant impact on the lives of children and the Olympic movement.
Motivational Speeches from NHL Coaches
Speeches from our NHL Coaches will assist your audience to realize their full potential and develop long-term objectives and strategies. This will help build confidence and provide your team with the skills they need to succeed in their endeavors.
Our highly sought-after NHL motivational speakers include:
Jon Cooper
Jon Cooper is considered one of the top NHL coaches. He coached his team to six playoff appearances, winning back-to-back Stanley cups for each one of them. Cooper has also forged strong ties with many people throughout his career as an NHL coach, lawyer, and humanitarian. He is an expert in team building as displayed by his business-oriented motivational talks.
Barry Trotz
Barry Trotz's coaching career made him an excellent speaker for topics relating to motivation, coaching, and team development. Any team aiming to build a sense of enthusiasm and togetherness will benefit from his talks.
Corporate Culture Speakers
Hire one of our motivational business speakers and teach your audience how to build and maintain a work culture that will give your company a competitive edge. Our speakers will motivate your workforce to start building influential and productive processes.
Our corporate culture speakers include:
Matthew S. Newman
Matt Newman is a financial planner and cancer survivor. He inspires financial advisers, sales teams, and risk managers, and so much more. He emphasizes sales and referrals by building stronger relationships with clients.
Ak Ikwuakor
Coach AK is a Google Master Instructor and a sports Diplomat. He is one of our top virtual motivational speakers on the market today. His topics of discussion can span from business development to holistic healing. His world revolves around self-awareness, motivation, public speaking, sales, sports, and business.
Most Sought-After Motivational Speakers in The Country
At The Mollie Plotkin Group, we create a personal relationship with our speakers to guarantee your event's success. We have a team of dedicated professionals who will help you find the ideal keynote speaker at a friendly price.
Stay Up to Date with the Motivational Speaker Trends
Global meetings and industry events are becoming a necessity in every part of the world. Meeting sizes, durations, and expenses are projected to rise in the next years as a result.
At The Mollie Plotkin Group, we are always on top of trends. We provide inspiring motivational speakers for a wide range of events including virtual meetings, live events, and so much more. Contact us today for a custom list of renowned keynote speakers for your event.