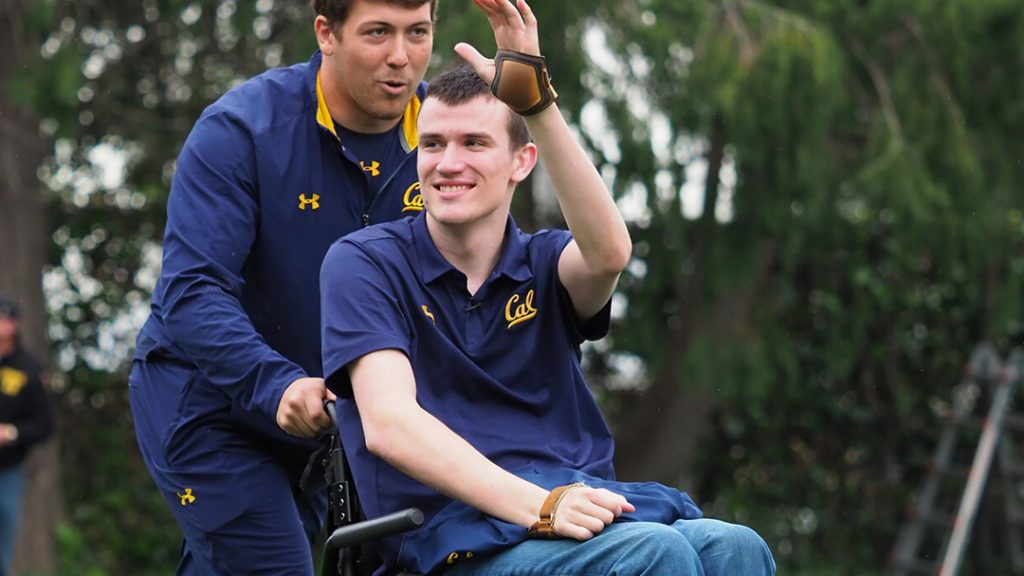 Is it respectful to label a person with disabilities as "inspiring," sharing their stories on social media in the same indiscreet way we share pictures of cats and celebrity drama?
We spoke with Robert Paylor, a quadriplegic who shares his story of recovery and disability to inspire others. At just 20 years old, Paylor suffered a devastating spinal cord injury while playing for UC Berkeley in the NCAA championship rugby game.
Treated at Craig Hospital in Englewood, Colorado, Paylor was an outlier. The average age of a patient at Craig Hospital is 40 years old, and only 10% were injured while playing sports.
Before his expert treatment from the Craig Hospital staff, Paylor's recovery was doubted by other medical professionals.
"What they failed to realize, and what I think can be even more dangerous than giving someone false hope, is giving someone false hopelessness."
Robert Paylor's tenacity and the anomalous circumstances of his recovery have inspired thousands across America. Amid the symphony of love and praise from his followers on social media, his story strikes a sour chord with some.
Viral Videos and Critical Response to Robert Paylor
Earlier this year, a video went viral on the social media website 'Reddit,' titled:
"Robert Paylor broke his neck playing a rugby game and was left quadriplegic. He stood up out of his wheelchair on his own for the first time (07/09/2020)! Almost 1,220 days later he managed to stand up, nothing is impossible. A great example of overcoming"
The video displayed Robert's courage and strength, inspiring tens of thousands, but some users felt differently.
"The title of the post included 'nothing is impossible,' and there was a lot of people who had something to say about that," Paylor said. "In a lot of ways, they're actually right," he frankly remarked. Paylor acknowledges that plenty of things are impossible.
"Humans can't fly, you know, without the use of a plane or something. That's just a simple fact of life. I did have a chance of accomplishing my goal and walking again. Now, that chance was less than one percent, but there was still a chance."
In the face of criticism from other people with disabilities, Paylor finds it difficult to relate to their perspective. While he insists that it is an individual's right to avoid presenting themselves as 'inspiring,' he sees no issue in taking on that role for himself.
"I don't want to tell anybody who is going through an injury or anything traumatic in their lives that they need to be sharing [their story] and that they need to use it to inspire other people because they need to identify that for themselves. But, in my situation, what's given me more purpose out of anything in my life is being able to share this story."
Robert Paylor Was Told His Recovery Would Be Impossible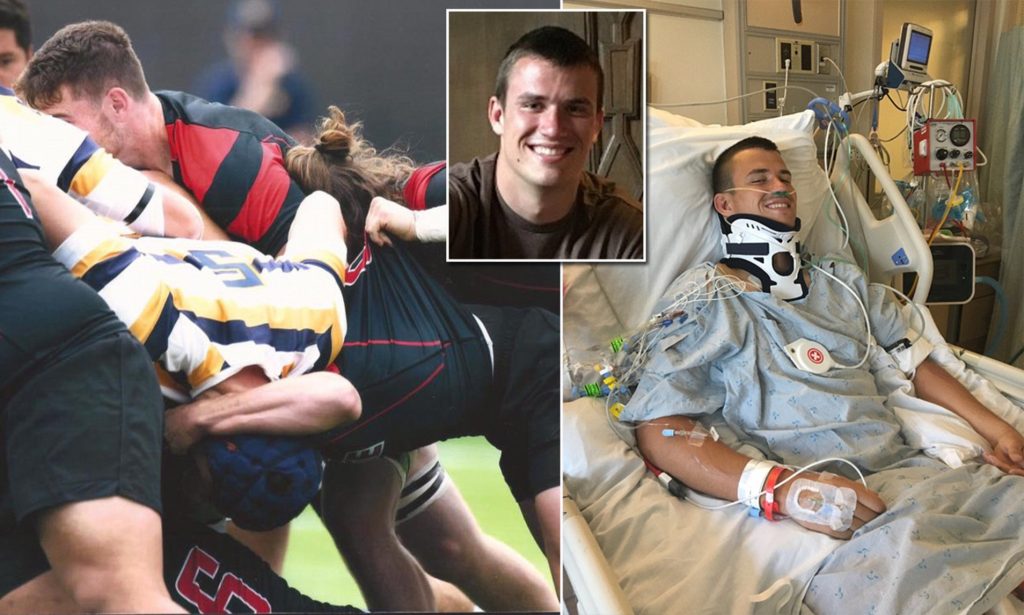 Initially, medical staff told Paylor that he would never walk again. He thinks that they were avoiding "false hope."
"What they failed to realize, and what I think can be even more dangerous than giving someone false hope, is giving someone false hopelessness," Paylor warns.
He worries that, had he taken the doctor's word as fact, he would have succumbed to the medical complications he faced early in recovery.
"Just saying, 'I don't know what's going to happen, but we're going to give it all we got,' is the appropriate response," according to Paylor.
Paylor is driven far more by his faith and principles than by fear or cynicism.
If he never sees the day when he stands up from his wheelchair for the final time, he would be okay. However, Paylor affirms that, "what I wouldn't be okay with is, if I look back at the end of the day and I know that I didn't go all in, that I didn't give it everything I have; that kind of regret would eat at me forever."
"So, whether it was a doctor or a nurse, or some person in a comment section on Reddit, saying that I would never get up out of my wheelchair and walk again, trying to make me feel foolish or rethink my thought process as to how I wanted to set up my goals, I simply couldn't, wouldn't listen to them."
Who Inspired Robert Paylor? The Answer to His "Why?"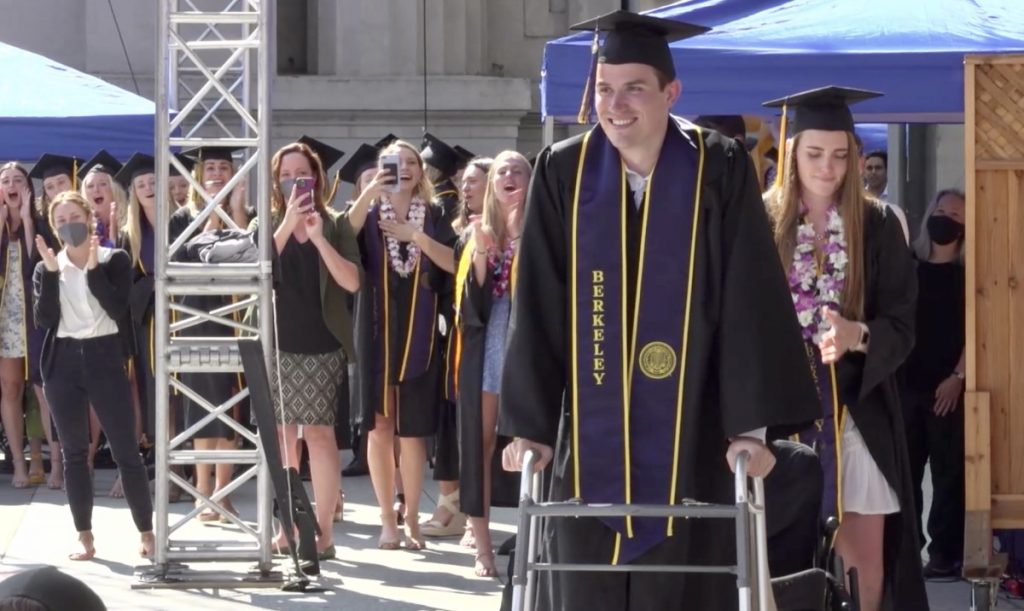 In spite of discouraging odds, Robert Paylor has made incredible progress in his recovery, walking at his graduation ceremony in August 2021.
His mission, to fight for recovery and selflessly inspire others, was sparked out of a blindsiding tragedy and mutual compassion.
Rob realized his power to make a difference, not through his suffering, but through his simple acts of kindness that he had once taken for granted.
Paylor thought back to before his injury, "I used to coach youth rugby camps over at my high school when I was attending college at Cal," he serenely reminisced, "I'd come over and there'd be campers, age range like 8 or 9 to 14, right before they would enter high school as a freshman."
"There was this one camper whose name was Talon. Talon was one of the smaller guys out on the field, but he played with heart. Sort of a Rudy type, someone everyone would root for," Paylor said smiling.
"I remember I'd give him the ball and pick him up and be bobbing and weaving between the twelve-year-olds. We shared this real bond."
But just five days after Paylor's injury, having seen Jesuit High School post a prayer service for him, his father showed him an image of a boy he could not recognize.
"He says this kid is Talon, and Talon had stage 4 cancer," in disbelief, Paylor read the caption,
"[It] read something like, 'Talon wanted so badly to be at this prayer service to pray for Robert today but had to be at the hospital undergoing chemotherapy. He's wearing his Jesuit rugby shirt that Jesuit gifted him in his first round of chemo, and when he is able to beat his cancer, he will still play rugby, just like Robert inspired him to want to do."
Heartbroken, Paylor read the final line, "At the end of the message, it says, 'Stay strong and keep smiling Robert. Your strength helps Talon stay strong too.' and immediately, I broke down into tears."
Paylor thought to himself, "When this kid, who I just spent a few collective hours of my life with and made a small impact with, is battling cancer right now, and he's praying for me? He's thinking about me. Not himself and the challenges that he's going through, which are immense, but he's praying for someone else. And, that kind of selfless approach just really infected me and the idea that by taking on my challenges, I could inspire someone else."
Reverently, Paylor said,"Talon, after a 4 year battle with cancer, unfortunately, passed away, but Talon died a winner, and Talon died a fighter. And every day, his inspiration lives on in me and so many others, and the selfless commitment that he lived with now lives on with me as well and helps me make an impact on the world. That kid is amazing."
Closing our conversation with Robert Paylor, he was happy to share his story and contribute to the discourse surrounding the quadriplegic identity.
Robert Paylor Inspiring Others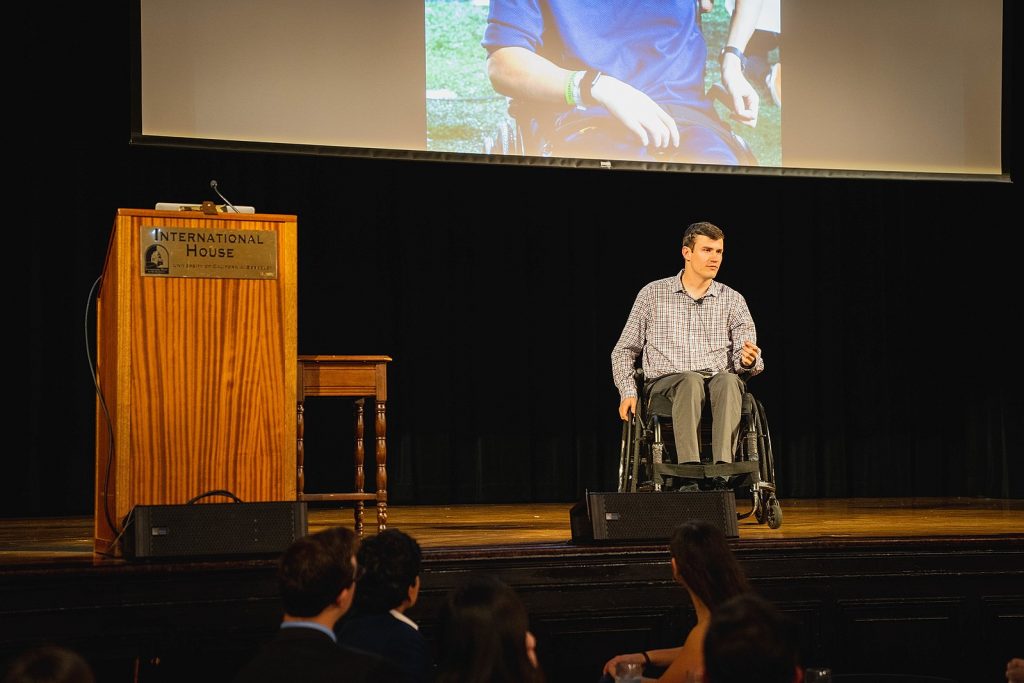 For Robert Paylor, like so many others, hope was the only option. Believing in himself and being open to a broad horizon of possibilities allowed him to survive the early medical complications of his injury.
Paylor sees his struggle as a universal connection with other people dealing with immense challenges in their lives. As an inspirational speaker, he has appeared in front of financial and tech companies across America.