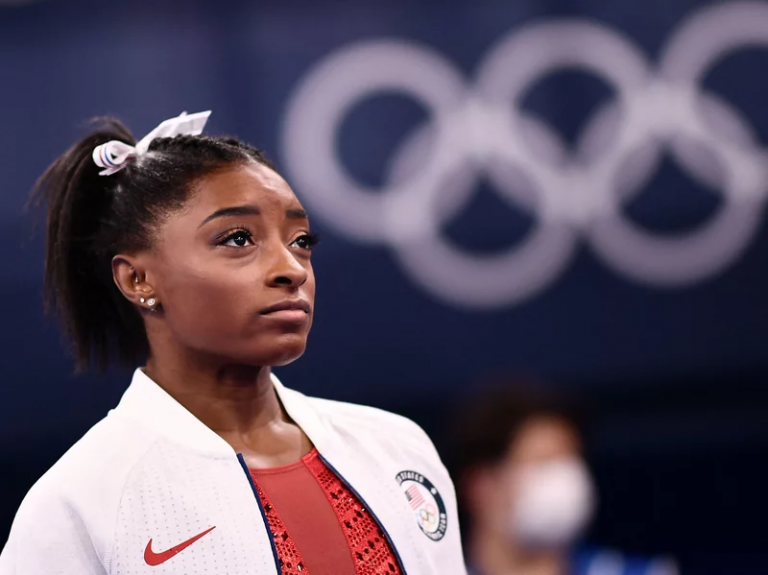 On Tuesday morning, Simone Biles, the most decorated American gymnast of all time, pulled out of the 2020 Tokyo Olympics. The 24-year-old sensation cited mental health as the primary factor in her decision, and she implored people to understand why she felt that she needed to take a step back from Team USA. She stated on her Instagram,
"I truly do feel like I have the weight of the world on my shoulders at times. I know I brush it off and make it seem like pressure doesn't affect me but damn sometimes it's hard."
Biles is worn out. Over the past eight years, she's amassed 27 combined Olympic and World Championship gold medals. In other words, since 2013, Simone Biles has won every single all-around competition that she has entered.
This level of sustained, total domination over a sport needs more context to fully understand. Tom Brady, football's "Greatest of All Time," has seven championships in 20 years. Lebron James, who many consider to be basketball's most dominant player, has won four championships in 17 years. Even Serena Williams, the Goddess of Tennis, won just half of the U.S Opens in which she competed over 16 years.
On top of the pressure to win every event this year by a massive margin, Biles is the face of Team USA. When considering her 5.4 Million Instagram followers and her country's recent infatuation with outrage, it's hard not to point out the obvious metaphor: Biles was walking on more than one balance beam going into these Olympics.
Biles won silver as part of Team USA during their competition. Her stunts were electrifying, artistic, and bold, doing things no other gymnast would even attempt. To the untrained eye, she absolutely blew away the competition, my mouth physically dropped open several times. Unfortunately, her brave strategy led to several slightly imperfect landings, which cost her several points.
Anyone who watched her performance would know that Biles had been the best gymnast in the building. Her attempts to ward off tears during her score announcement were horribly difficult to watch, as she forced a smile and waved to the camera. I could feel her pain, her disappointment, and her dawning realization that after eight years, she had finally not been scored as the top gymnast. As her success has been unprecedented, so was her sorrow after finally being beaten in an international competition.

Then, the worst part began. People described Biles "as a 'loser,' a 'fraud,' a 'sell-out.'" I saw people say that Biles "hated the country" for failing to perform as well as she had previously. Men whose resumes aren't as impressive as a 13-year-old Biles's piled on, telling her to "go back to the kitchen." As these insults were thrown at her, and as Biles realized the pressure would only continue to mount, she made the difficult decision to take a step away from Team USA.
And then of course, the next bevy of insults came. Now they call her a quitter, a complainer. They say, "Michael Jordan would never do this," and fail to realize that Michael Jordan did do this. Jordan quit the Bulls after his third championship, citing pressure and his own mental health following the death of his father.
The difference is simple: Biles is a woman. And too often, we ask our female Olympic athletes to be braver than our men. We ask them to deal with deep misogyny from their own country's population, as seen during the Women's Soccer Team's Olympic run in 2016. We expect them to perform just as well as the men, with far less recognition, as the Women's Basketball team has done for over two decades. Here, Biles is being presented as emotional, weak, and crumbling under the pressure.
In reality, this couldn't be farther from the truth. Biles took to the mat this year as the only remaining member of Team USA gymnastics that had been with the team during the horrible sexual abuse from team doctor Larry Nassar. In 2018, she posted on social media that she too, had been assaulted by the team doctor who had hurt so many of the young athletes. Biles joined Team USA this year to spread awareness of sexual abuse, and to prove to young girls that she was not defined by the abuse she had suffered. She hoped to become the new face of Team USA gymnastics, and boldly lead the team forward. After receiving so many of the terrible comments on social media about her, she said, "I just felt like it would be a little bit better to take a backseat. Work on my mindfulness. I knew the girls would do a great job, and I didn't want to risk a team medal for my screw-ups."
People love to tear those above them down. And despite her superhuman abilities on the mat, Biles is human. Her decision to drop out of the Olympics for mental health reasons is not only understandable, it's admirable. She knew that she wasn't going to perform at her best, so she dropped out in support of the team's medal chase. If that doesn't show profound leadership ability, then nothing does. The ultimate competitor decided to take a step back in favor of her team, while also staying unwaveringly honest. I don't doubt that Biles's announcement, as bold as her death-defying flips on the mat, will give other athletes the motivation necessary to speak about their own mental health issues.
Biles's decision to remove herself from Team USA this year shouldn't take away from her legacy. There is no doubt to me that if Biles thought she could perform at her best, she would be out there with the rest of Team USA, giving her all. With her announcement to drop from the team, Biles stretches out to her full 4"8' height, maintaining her dignity and staying unapologetic in her actions.
Luke Marturana is a lifetime sports enthusiast and current sport management major at the University of Delaware. Luke works for The Mollie Plotkin Group, assisting professional athletes with video content and social media marketing, and frequently comments on current trending topics in the world of sports.