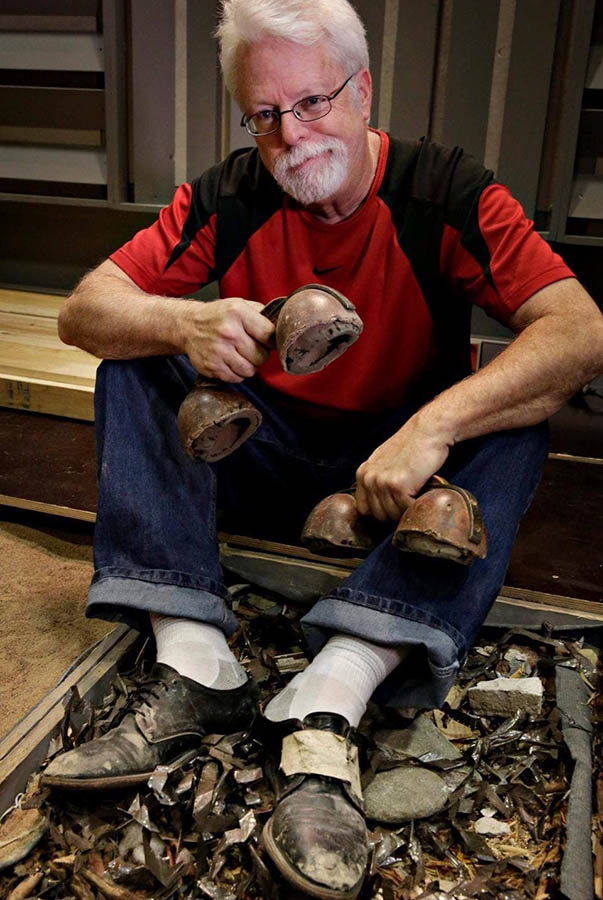 John Roesch
Legendary Foley artist for over 45 years, Lead Foley artist at Skywalker Ranch, with credits that include ET, Empire Strikes Back, Toy Story, and countless more movies, commercials and video games. 
John has worked on sixteen films that have won for either Best Sound Editing or Best Sound thru the Academy of Motion Picture Arts and Sciences and was awarded "The Career Achievement Award " by the MPSE.
Expertise In:
Foley
History of Sound in Film
Movie Making: Behind The Scenes
Following Your Dreams
Motivation
Team Work
Stories aren't told just with words but with sounds as well.  Before we share John Roesch's story with you, close your eyes and listen to video to the right.
John Roesch brings the movies you watch, the commercials you listen to and the video games you play come to life! How do you create the squishy sound of ET's body movement? Jello!  And, the man largely responsible for many of the sounds you've heard in your favorite movies is John.
Keynote speaker John Roesch is one of the most sought after speakers for client and employee engagement programs today. His audiences learn how to find the "fun" in everyday, recognize what their passions are and learn about the behind the scenes fun in (virtually) every movie or video game they've ever experienced.
Setting the Sound Stage for Jon Roesch:
John Roesch is a very noisy man. And he has been for more than 30 years.
A Foley artist on more than 400 motion pictures, Roesch recently received the MPSE's Career Achievement Award at the 2013 Golden Reel Awards, the first Foley artist so honored. "I guess they felt I had the right stuff," he says with his usual deadpan, from his home base in Bldg. 68 on the Warner Bros. lot.
"The term 'Foley' is a bit of a misnomer," he starts off. "It doesn't succinctly say what it is we do. Foley is custom sound effects. We are creating sound exactly as it is seen on the screen. It's whatever the audience will believe as correct, that matches what we see. If it's not onscreen, we don't do it."
Though he had originally planned on being an actor, Roesch received a degree in filmmaking from New York University in the mid-1970s, followed by a year as a Directing Fellow at AFI in Hollywood. In 1976, as a favor to a friend, now-supervising sound editor Dessie Markovsky, he took on Foley duties for a film. "Of course I helped her, but I thought, 'Boy, what a stupid job,'" Roesch says. 
On his way to what he thought would be his second—and last—Foley job, he ran into his apartment manager and told her where he was going. Coincidentally, "she" turned out to be award-winning Foley artist Joan Rowe, and she told Roesch they had an opening at Gomillion Sound, where she worked for the late Ted Gomillion. Later, she would become Roesch's first Foley partner.
Now, in addition to working on the most exciting movies to come out of Hollywood, and making your favorite video games come to life, John is speaking to audiences around the world. 
These are just a few of the movies John has worked on:
Marvel's Avengers films

Lion King

Back to the Future series

The Matrix series

Interstellar

Michael Jackson's Thriller video

Halo 5: Guardians

and more
 Downloadable Media Kit for John Roesch: